Getting found online is critical for almost all businesses. These days most businesses have their own websites. Getting a website for your business requires a significant effort and can be expensive, but it is an essential investment for most businesses. There are other ways to get your business noticed online – social media, web directories, review sites, video sharing sites, etc. But for businesses that are trying to target a market in their local area probably the most important place to establish your business profile is Google My Business. It may be as important as having a website and in some cases even more important. And considering that you can easily set it up yourself, and it's FREE, it should be one of the first online presences that a business establishes.
Why is Google My Business so important?
Google search is the number one way that businesses get found online and Google My Business is an important part of Google search.
Consider a search in Google for 'Nelson Plumbers'. In the image below you can see the results: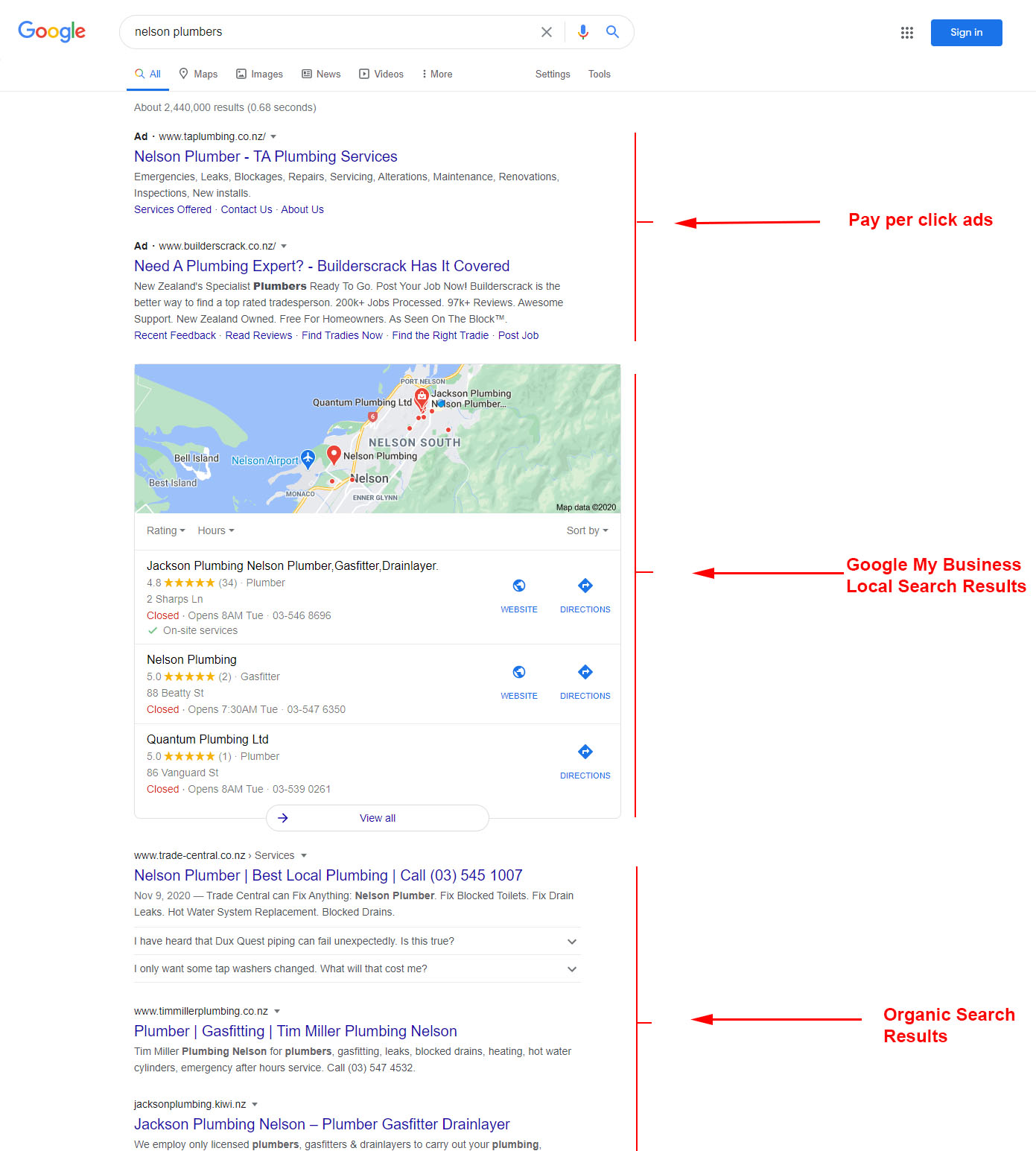 Right at the top you have the pay per click ads – those business are paying Google to get shown at the top. But next we have the local search results – before the regular search results! Typically 3 local results are shown. If you can show up here that could be as good or better than the paid ads! The 3 businesses that get shown in this valuable area are determined by Google's sophisticated algorithms. But even if your business is not one of the 3 that appear here, it's still important to have a Google My Business listing because many people will click in to the map and search around an area on the map because they want to visually see what's close to them (or maybe they just like maps!). If you don't have a Google My Business profile, then you simply won't show up on a maps search.
Ok, you've convinced me, how do I set up a Google My Business profile?
Go to https://www.google.co.nz/intl/en/business/ or just search for Google My Business.
Click Manage Now. This will bring you to a Google log in screen. Log in if you already have a Google account. If you don't have a Google account you will need to sign up for one.
Click on Add a new business link (or similar). This will take you to a search. Assuming you don't already have a listing it will indicate that business was not found and give you the option to create a listing.
Continue through the steps for adding the information for your business listing.
After you enter the basic details, you will be asked to verify your details. Usually you will verify your address by having a postcard with a code posted to your physical address.
You will have options to enter more details such as business hours, description, photos, etc., which you can do now or later.